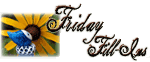 http://fridayfillins.blogspot.com/
1. Birthdays are
okay
.
2.
Spring
is my favorite season because
of everything coming back to life
.
3. I feel my best when
I am in line with Who I Am
. (Reader of
Conversations With God
, here)
4.
Chinese anything
is my favorite food!
5. First impressions are
very usually correct
.
6. The best piece of advice I ever received was
"Follow Your Heart"
.
7. And as for the weekend, tonight I'm looking forward to
being by myself (introverted and the girls are away for the weekend)
, tomorrow my plans include
attending my brother's graduation ceremony
and Sunday, I want to
mostly relax but also get some house cleaning done
!