I want this blog to be about us finding our way into radical unschooling. For now, we are going to start with pictures to show what we have been up to lately.
This was back in September, but it was a density experiment that Marti, Lilly and I did together. It didn't turn out exactly like the directions said it would, which made it even more awesome because we got to talk about why it didn't turn out that way. It was a lot of fun.
Here is some pictures from a "growing" experiment that we did. We got some creatures (alligator and two fish) from a "Chemistry Day" at our local museum and put them in water like we were told. We left them there for about 2 weeks. Then we took them out to let them dry up so we could put them back in the water to see if they would grow faster the second time. We haven't gotten (we keep forgetting to get) the water (has to be distilled) so we haven't done the second part yet.
Day One Day Two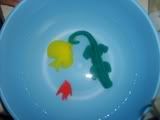 Day Three Day Five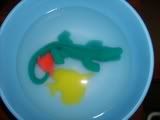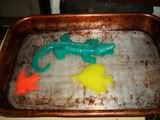 At the beginning of November we went to our local museum, which is currently host to The Magic Schoolbus Kicks Up A Storm. They really enjoyed being Weather "women" so we have started making our own backgrounds to attach to our very large television so they can stand in front of them and forecast the weather while being videotaped (the camera at the museum doesn't actually tape, just allows them to be viewed on a screen above).
Here is Marti casting the weather for the US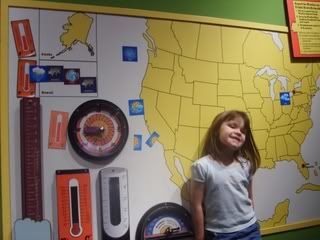 And Lilly being the camera girl (which she adored more than being IN FRONT of the camera). She even looks like a little director, doesn't she?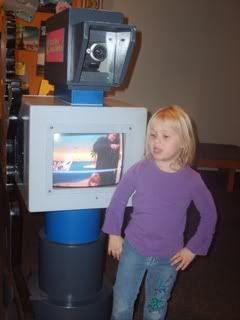 On November 5th, I got up early (5:15 am EST) to check the skies for
this
event. We had nothing but cloud cover. I was really bummed, but thankful I hadn't woken the girls so they could see "cloud cover".
I checked again at 6:30 am and most of the cloud cover had gone away so I woke everyone up.
We got to see the moon, Venus (which I had actually been seeing for several days out the bathroom window and didn't know it), Saturn, Regulus, and we are pretty sure we got to see Mars. We all enjoyed getting to see the planets before the cloud cover hit again.
Here is a picture of the moon and Venus.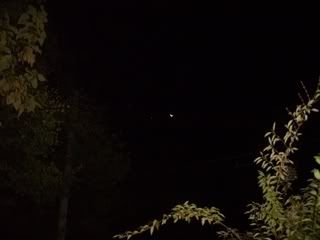 Lastly for today, on November 11th we moved the couch out in my daughters' bedroom and found a hibernating (well we assume it was trying to hibernate) bat which led to discussions of hibernation (of course), bats, bat habitats (including our house), and even fear (mom and girls are afraid of bats). It also reminded the girls of the time we had a raccoon in our house. I will have to remember to have them dictate that story sometime for you. Perhaps in video.
Here is the pic of the hibernating bat.