We have had a busy week. We got tons of advice on "meeting needs". I will share them at some point, but for today I wanted to get some pictures posted of this past week.
On Friday of last week, we had some friends over. Things were kindda crazy around here with 6 kids 7 & under running around, but it was a lot of fun too. Marti helped me pick up the house before they got here (without arguments) and we made chocolate muffins to give to our friends while they were here. All the kids (well, not little Maggie) had a blast jumping on the trampoline too. Here is a picture.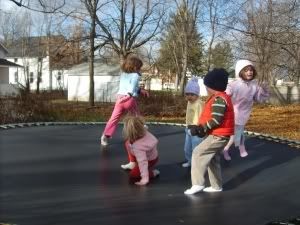 Lilly actually had a really hard time with this and didn't stay on for too awfully long because she wanted to control/direct everyone's jumping.
On Saturday we put up the Christmas tree. Here is a pic of the girls with their bulbs that their grandma had made for each of them.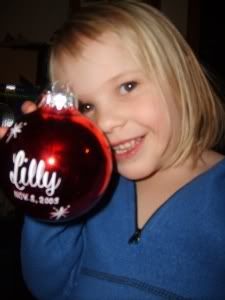 Marti wasn't fascinated with decorating this year like she has been in the past. Most of the time that we were decorating she was playing video games with her friend Hannah who was over for awhile. Can't blame her. I probably should have planned decorating for when friends WEREN'T over, but she didn't seem upset or seem like she felt she had to
choose
between the two options.
Sunday we put together a couple experiments. First was the
Naked Egg
experiment.
Here is our egg freshly put into the vinegar, 8am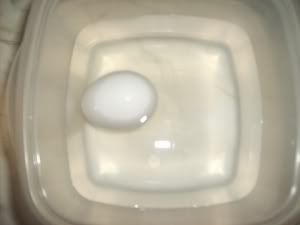 Here is our egg 13 hours later
And here it is at 7:30am the next morning
Soon after that pic I drained the vinegar and was going to see if the liquid in the egg would come out due to osmosis, but Lilly decided that the greater experiment would be "how much pressure applied to the egg membrane will make the membrane break". So now we just need to get another egg into some vinegar and try again!
We also put the alligator and fish back in distilled water on Sunday.
So, this is Sunday...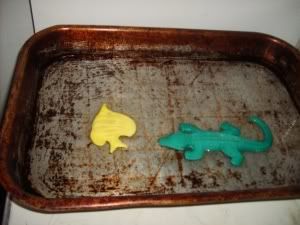 Monday...
Tuesday... (we couldn't find the red fish at first, but we found it yesterday)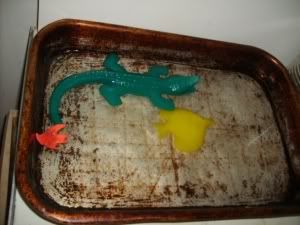 We also got to make bread mix (we put all the dry bread ingredients into ziplocs for quick breadmaking) and Lilly wrote "Bread" on every back. On the first bag I told her every letter and then she wrote that letter. On the second bag, she said "B?" I said, "Yep, B." She said "R?" I said "Yep. R." and so on. She forgot the letter "A". The third, forth and fifth bags she spelled out bread and I confirmed each letter. Here she is with her first bag.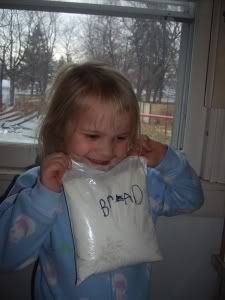 On Monday we got our first really good ground covering snow here and the girls went out to play (yes, without coats).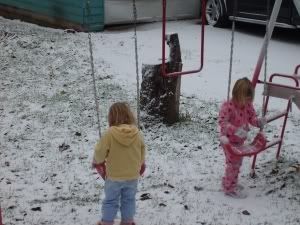 We also made chicken noodle soup for lunch with homemade egg noodles and the egg noodle dough was shaped a little like Alaska which we thought was kindda cute!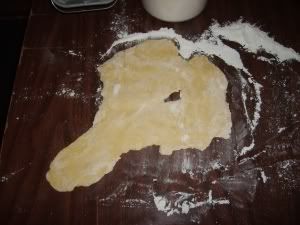 Finally, on Tuesday we went to visit another friend and had a blast. While we were at their house they brought out their hairless albino rat named Remu (pronounced Rema) and Marti got to hold her. Marti said "it felt very nice to hold a rat. I've never held a rat before."
I think this week I will try and post a bit more often so I don't have such a long post all at once.