I tried to post yesterday, but found myself just complaining about how Lilly is not being as well behaved as I want her to be. What a laugh!
So, here I am today with pictures of things I have suggested to them and they have loved the ideas.
January 11th~We headed to Walmart so that we could pick up mini trampolines for us and for Stella's family because they were on sale for $19, which is like 1/2 off. Marti and Lilly also chose to spend their allowances (which is $5 every other week per girl, not much but they are currently happy with that). Marti had saved her allowance from the payday before so she had $10 and Lilly had $5. We went through the normal, "Mom, can I have this?" and "Let's look at the price. Nope, this one says ______, you don't have enough for that one, but if you save your money you will have it in ______ weeks ".
Marti picked a fairy Barbie and a Polly Pocket set complete with horse. Conveniently, I had recently cleaned out their room and moved all the Polly Pocket stuff downstairs in a case.
Lilly picked the same pink fairy Barbie as Marti and recently named her Nika.
So, here is Stella and Lilly on the trampoline which was initially in the basement, but is now upstairs in their bedroom.
And a picture of them together LOOKING like best friends. Don't let that fool you, lol! Stella also looks taller in the pic because she has dress up shoes on. They are actually about the same height even though Stella is 10 months younger than Lilly.
And a picture of Marti with her Polly Pockets on Friday. This was the first day in a long time that she had little interest in playing video games.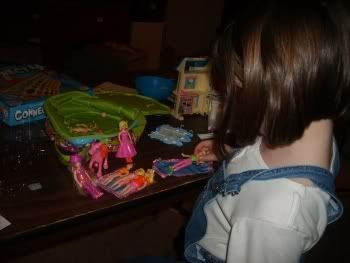 Saturday morning Lilly got up and wanted to play Veggie Tales Dominoes (which I printed from
here
and laminated at Office Depot when they were doing free laminating for teachers back in September). So, we played a game, then we spelled her name out, which she was very proud of, as you can see.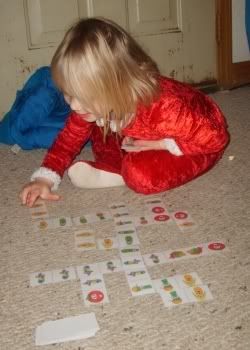 Tuesday, I thought the girls might like to try something new so Lilly and Stella helped me make
crepes
. Lilly and Marti wouldn't try them, but Stella liked them.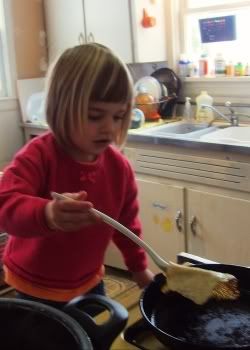 Yesterday Lilly and Stella climbed into their swimsuits and took a bath. This activity is a sensory thing for both girls. Usually it calms them. Yesterday, it ended in fighting, but they had fun for a minute.
We also pulled out a game that I bought back in the summer and forgot about. Pin the key on the treasure map. They liked it alright, but Lilly couldn't grasp the concept of leaving the blindfold on. If she left the blindfold on she just couldn't see where the X was to put the key.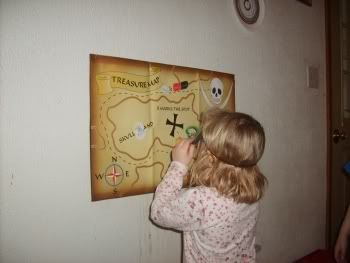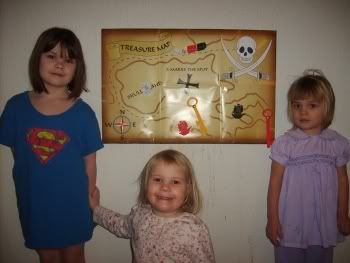 We also downloaded a game suggested on
one of my lists
called
TimezAttack
. I wasn't sure Marti would get into it, but she loves it. Now, she is learning her multiplication facts BEFORE she has her addition and subtraction facts memorized. Uh-oh! Just kidding. It's an Oh-well here!
It seems yesterday was quite a busy day. In the afternoon Lilly and I went to buy a "snake" in order to clean out our kitchen sink drain (which didn't end up working), but Lilly came into the kitchen and asked what I was doing. I said, "Snaking the drain". She says, "Can I snake the drain?". Of course I let her and she thought it was just the best thing. That alone made all the trouble we went through for "nothing" totally worth it.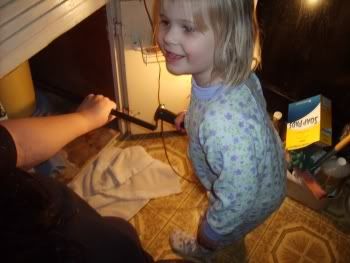 Today, the girls made sticker pictures and macaroni necklaces, plus they have been playing in the girls' bedroom a lot lately.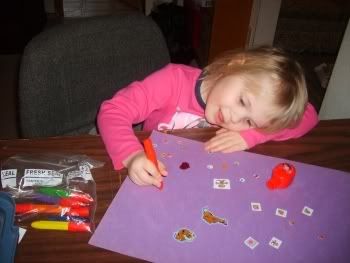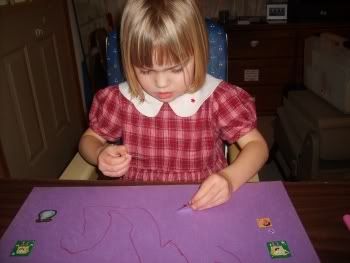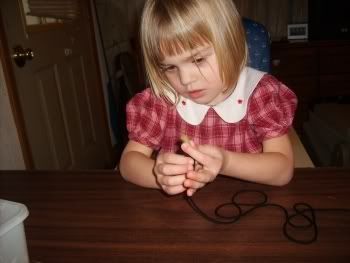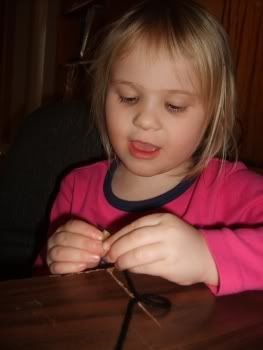 Well, that's all for today. Have fun this week!