The girls have been on the computer a lot lately so I haven't got much of a chance to update. Today they are at Grandma's and I am enjoying uninterrupted time at whatever it is I am doing at the moment, but I miss them as well.
Let's see what kind of pics I can find today, although I don't think there will be too many.
I haven't caught most of our learning in pictures this last couple weeks. In fact, some things I KNOW I haven't caught have been pretty good discussions with Marti. I can think of two right off the top of my head.
First, she watched the movie
Serenity
with her dad a few nights ago. Tuesday it would have been. Now Rog and I are really stuck on this movie and the TV show that went along with it, but never got a fair chance called
Firefly
so we have been watching it a lot to be honest and she hasn't shown much interest which is fine, but the other night she got bored of playing
Furcadia
and went to sit with dad.
**********SPOILERS AHEAD**********
The next day she had a doctor's appointment which I took her to and on the way home she wanted to discuss "the Pax" that was talked about in the movie. The Pax was a chemical released into the air on a planet called Miranda because the Alliance (the government) was sure that it would stop the people on the planet from fighting. Well, the Pax did its job a little too well and all the people on the planet stopped fighting, but then they stopped doing everything else too including breathing. Only catch was, about 10% of the population had the opposite reaction and they became overly aggressive to the point of rape and murder. The Alliance was trying to cover up what happened on the planet and the characters of the show were on a mission to make it known.
**********SPOILER OVER**********
Anyway, the discussion that Marti and I had was about anger. She basically thought that the Alliance had a good idea, wanting to try and weed out anger. We talked about how anger was an emotion that we actually NEED to have. We talked about healthy and unhealthy ways to express our anger and we talked about adrenaline. It was a positively lovely conversation, all because we watched a movie.
Sometimes I feel like we watch too much television (movies really, we don't have TV right now), but then things like this happen and I know that we are living the right life.
The other discussion that we had was just yesterday or the day before. First, a little background about religion. I was raised Christian in a Nazarene church from birth to about 13ish. Then I was in and out of church every once and awhile (think like once or twice a year) until I was about 23 at which point we attended an awesome church 45 minutes from our home every Sunday for about a year. Gas prices got to high so we looked for another church and didn't find a good one. We have been to church only a handful of times since.
Last year, my long time (I am talking 25 1/2 years here and I am only 27 years old) best friend was carrying a son and went into premature labor. She had Isaac at 27 weeks. He lived 18 days.
Here
is his web page if you would like to see the whole story. His life, and mostly his death was a HUGE turning point in my faith. I questioned whether God existed and if he did how he could put my friend through this. She had been trying for a baby for so long. I questioned EVERYTHING and in a way, I still am going through my journey. At this point, I don't know what I believe, except that God, if there is a God, is okay with my journey. I believe that Leslie in the movie
Bridge To Terabithia
summed it up well when she said "I seriously do not think God goes around damning people to hell. He's too busy making all of this."
So anyway, on to mine and Marti's conversation. What happened was that I got up out of the chair and as I did I was stretching and saying "Oh, my God" in that sort of tired, didn't really want to get up sort of way. She informed me that I was not supposed to say God's name in vain. I asked her where she learned that (she went to Sunday school 3 1/2 YEARS ago!). She told me that she remembers it from Sunday school (WOW! I'd give anything for that girls memory!) and that she also knows it from the few Christian cartoons that we have including
Veggie Tales
and
Hermie
. Because
Bridge to Terabithia
was so fresh in my mind I asked her if she thought God went around damning everyone who said his name in vain to hell. She said "well, no". It was interesting to talk to her and see her unwavering faith like I used to have.
Okay, I think I have written more this time than I ever have. Wow! On to pictures.
On January 24th the girls and I made the BEST chocolate chocolate chip cookies EVER!
The best part, right?
Then we had to do dishes, their decision, not mine.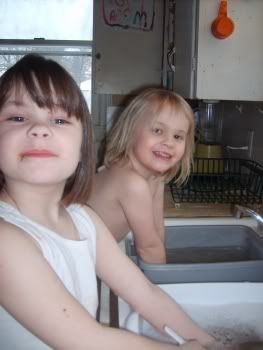 Sweet Rewards!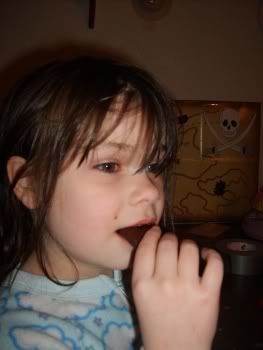 The girls also signed their Valentines which we will take with us to the homeschool Valentine party in a few days.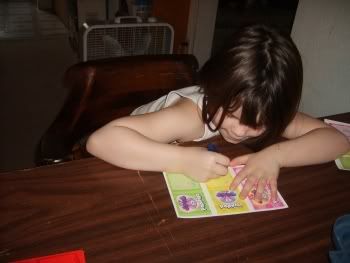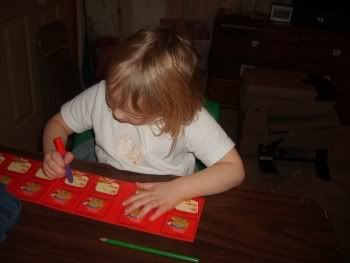 On January 25th we went to the Museum, which currently has the
Magic School Bus Weather Exhibit
. My girls both really enjoy getting in front of the news camera and watching themselves on the TV. While I was taking pics of Lil she was saying something about watching "Lilly Watch One" which is a spin-off from the movie
Red Riding Hood
(I think Joey Fatone does such a good job in this movie!) because their TV station in the movie is "Wolf Watch One". I tried to get her to say it on video, but NOPE!
I wanted to share this next picture because it exemplifies that this blog is as much if not WAY more about what *I* learn from my kids than what they learn from me. On the day in question I was having a VERY grumpy day. Stress had tackled me and pulled me to the ground. I had just laid there for awhile, but in the process of trying to get up and back on my feet I had made myself one of my favorite foods, chicken salad. I had just sat down to eat it when Lil came up and asked for a bite. I didn't really want to share, but I gave her a bite thinking she wouldn't want anymore. She proceeded to make a fool out of me and decided to go get her own spoon so we could share. THEN when it was all gone, she wanted a salad of her own. I managed, in the moment, to step back out of myself and see things from a totally different person's perspective, which is why I asked for this pic to be taken.
These pics are from a day when we had had quite a bit of snow and had to go shovel the driveway. We had also gotten the rake out to help because the snow was very heavy and wet and hard to move (and we only have one shovel). Lil decided she wanted to use the rake too. But in a different way. Rakes make very good spoons.
I wanted to share these pics because they are so similar. Marti is 3 1/2 in her pic, Lilly is 4. I bet that you would never guess she is a little louder, a little "spunkier", would you?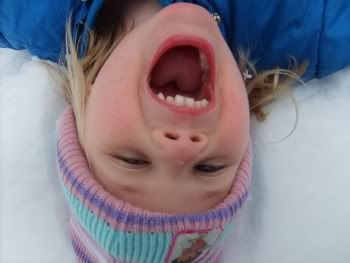 Then a pic of Lilly and Stella pretending to be bunnies. This was Friday.
Then, on Friday night we were lucky enough to get to watch my nephew, Tommy while his mommy went out (she doesn't get to do that too often).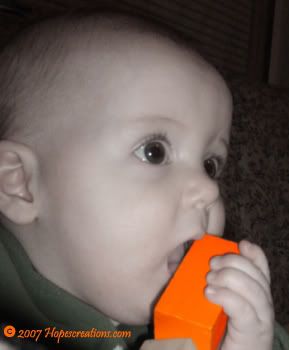 Finally, I wanted to share a picture and a video of Marti.
On Friday night as Lil and I were going to bed (we go much earlier than Marti does) Marti was telling me that she was cold. So I suggested that she cuddle under the blankets on her bed, just until she got warm and then she could get up. I had NO ulterior motives when making that suggestion by the way. None whatsoever. She said that she didn't want to because she then she would fall asleep and she wasn't ready to go to sleep which in itself was a funny statement to me. I told her that if she did fall asleep than she was probably READY for it. She disagreed so we got her a blanket and she went into the library area of our house (the hallway upstairs). When dad got home, he found her asleep in the library. She told me the next morning she had read two books, cuddled up under the warm and passed out.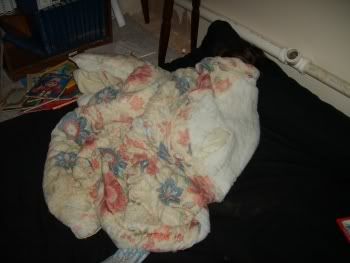 That's our "Don't Wanna Miss A Thing" Girl. Check out her slide show
here
.