Well, it's only been a couple days, but we had a bit of fun tonight.
Actually, this past week we bought new toothbrushes (the girls were not wanting to brush their teeth, which isn't a huge deal, but I thought new toothbrushes and toothpaste might help) and they wanted to save their old ones. Instead, we took pics of them with their old toothbrushes. We do this with much of their artwork and lego buildings and block buildings as well.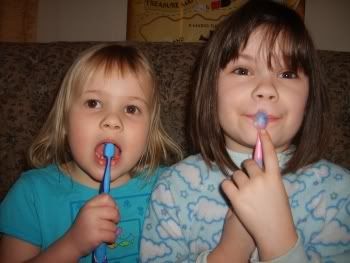 Today Marti was pretending to be a Queen. She insisted we call her Queen Marti and we had fun playing for a bit until we all got too warm upstairs and Lilly said that Marti was being a snotty queen. Her gold "dress" was made from scraps of a bed skirt that was given to us, but was too big for our bed.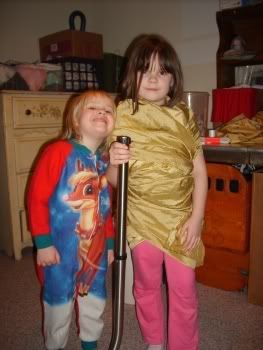 After playing Queen, Lilly wanted to put together our US puzzle so we all sat down to do that. The girls would ask which state they had in their hands and I would tell them and let them know that it went "near _________" and name another state. Marti informed me that Tom Sawyer is from Missouri (apparently she learned this from
Fairly Odd Parents
, which is a show I wasn't sure about at first, but grew to love it and realized that just about every episode was very similar in that Timmy always makes an irresponsible wish and the Godparents can't help him fix it so he has to figure out how to do it by himself) and that the Mississippi River is in Mississippi. They know it is REALLY cold in North Dakota. Lots of potatoes are grown in Idaho. Georgia is famous for it's peaches and Zoey 101 takes place in California, where lots of movies are made and movie stars live. All because there are pictures on almost all the states :)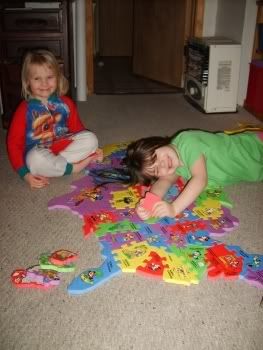 I did want to share one more thing that the girls used to play on
Noggin
. They used to play this video and I thought it was adorable so now they play it all the time for me. I love it!
Online Videos by Veoh.com